Saturday, May 28, 2005
Great Idea!
Great idea!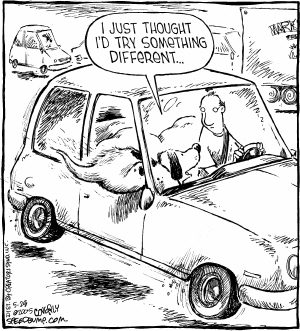 |
Thursday, May 26, 2005
The Missus says I should post this for her...
It's a dog's life...
Meet Max.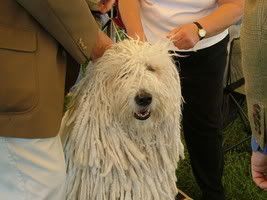 Max is a Komondor. I met Max last Sunday in St. Clairsville, OH.
Max is a big dog.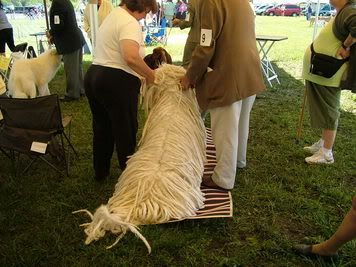 Our Scottish Terrier, Dugan, was competing (supposedly).
He looks innocent waiting to go in the ring, doesn't he?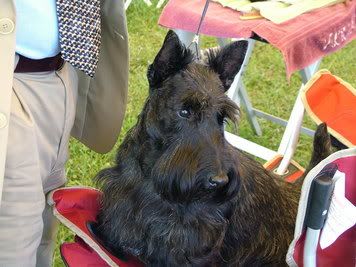 Dugan didn't mention that he wasn't in the mood to be there until after he entered the ring. He made it very clear by threatening the life of the other two Scotties in the ring.
We like to think its a phase.
Since we drove 2 hours to find out Dugan wasn't in the mood to show that day I decided to walk around and make some NEW dog friends.
I don't know this guys name...but I got the impression from the expression on his face that he didn't want to be there either.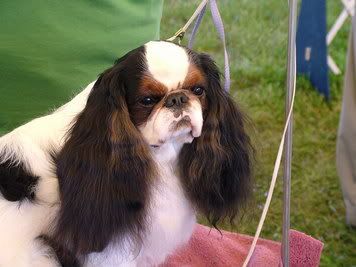 The Chinese Crested breed seem to be the new fashion accessory for the gals...(watch out Tinkerbell)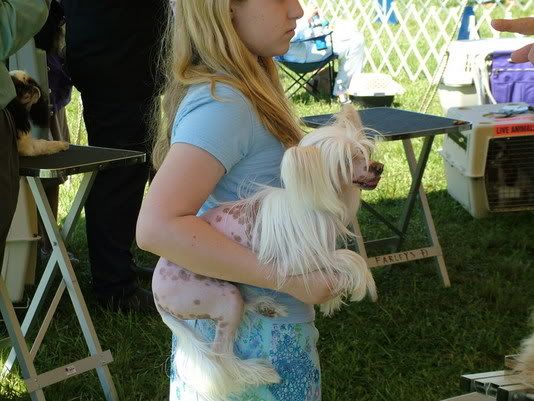 The previous was written on Wednesday, May 25th. I am happy to report today (May 26th) that Dugan decided to cooperate and was a perfect darling in the ring.
Vic (Missus)
|
Friday, April 01, 2005
Pretty Scotties All In A Row
It is show season again so naturally, the humans have lost their minds. Recently they dragged us all to a "grooming seminar" to get us all ready for the ring. It was great to see some of my buddies. My little sister, Annie, was there along with Murphy, Max, Katie, and Myah. (Myah is a hottie!)
Murphy gets a kiss from Jim. It is best to keep Scotties happy while grooming them!

|
|
|
|
|
Monday, February 14, 2005
Happy Valentines Day!
I don't know about you but I am having trouble shopping for the family.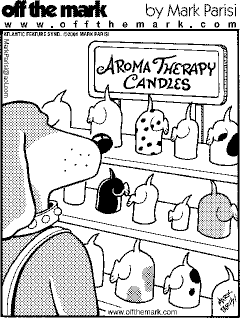 So many choices!
Maybe I'll just dig up one of my bones from my secret hiding place (behind the front hedge) and give them that!
|
Friday, December 24, 2004
A very Scottie Christmas!
Missus was speaking to Miss Jean on the shiny ear-warmer last week about Miss Jean's puppies. It seems that one little boy, Garber, has not got his ears up yet. Miss Jean was worried. She said that Garber's ears weren't up because his sister, known as She-Devil, was beating the stuffing out of him all the time.
So Missus suggested that Garber come spend Christmas with ME to give him a break! Garber arrived at our house on December 23rd and about 4 am on Christmas Eve he started howling like someone was trying to kill him! Missus stumbled out of bed and let him out of the exercise pen in the kitchen.
I grabbed a sock and Garber and I ran around and around the house! What fun!
Missus said something about wanting to sleep and that we could play later in the morning. Garber wouldn't listen so...
It was necessary to perform the Dugan Mind Meld on Garber at 4:00 am.

He's a good kid. Just needs some expert Dugan training.
It sure is fun having a puppy visit for Christmas! Arrroooooo!
|
Sunday, December 19, 2004
Snow, snow, snow, snow, snow!
It took almost a year but my beloved snow returned! It hasn't been as deep as my favorite romp last December but I'm still excited. After all, snow time isn't over for three more months!
As soon as it started falling from the sky I asked the Missus to put me out on my lead so I could tell Harley.
I don't think Harley is as excited about it as I am...
Hey Harley! The snow came back!

|
|
Thursday, December 16, 2004
Rescue an animal...get a friend like Harley!

Remember my best buddy, Harley? Harley is a bichon mix and lives next door with his human, Bill. Harley had a rough time until he met Bill. His humans didn't understand him and took him to an animal shelter. This happened TWICE to poor Harley.

Bill rescued him. (I still think he used a helicopter)

Harley and I wrestle, share treats, take our Sirs for walks (the poor things have no sense of adventure...we always wind up where we started) and share important doggie security secrets.

There are millions of animals all over the United States like Harley...just looking for the right home. Think about them this Christmas or any time of the year. There is a link on my page to the Pennsylvania Rescue but you can rescue an animal from anywhere!

Be a hero like Bill! Get a helicopter and go rescue a special friend!

Rescue Me

Rescue me not only with your hands but with your heart as well.
I will respond to you.

Rescue me not out of pity but out of love.
I will love you back.

Rescue me not with self-righteousness but with compassion.
I will learn what you teach.

Rescue me not because of my past but because of my future.
I will relax and enjoy.

Rescue me not simply to save me but to give me a new life.
I will appreciate your gift.

Rescue me not only with a firm hand but with tolerance and patience.
I will please you.

Rescue me not only because of who I am but who I'm to become.
I will grow and mature.

Rescue me not to revere yourself to others but because you want me.
I will never let you down.

Rescue me not with a hidden agenda but with a desire to teach me to trust.
I will be loyal and true.

Rescue me not to be chained or to fight but to be your companion.
I will stand by your side.

Rescue me not to replace one you've lost but to sooth your spirit.
I will cherish you.

Rescue me not to be your pet but to be your friend.
I will give you unconditional love.

Author Unknown

Life is short...love hard...

Dugan




|